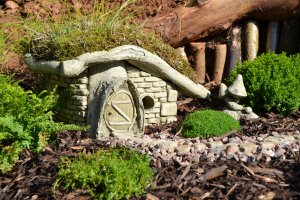 At Devonshire Stone, we don't just produce high quality reconstituted stone statues, we create magical sculpture for the home & garden that are brimming with detail, thought and style.

All our statues are cast from original works of art, hand-crafted by our talented team of sculptors.

Everything about our business is 'Made in England' - all our statues are cast lovingly by hand at our premises in East Devon, with attention to detail second to none.
We maintain substantial stocks and distribute promptly and reliably.

Our greatest strength is the eye-catching nature and immediate customer appeal that all our characters have.

We are continuously adding to our range, so keep an eye on our website to meet new characters as they are born.

Our Strengths Affordable prices: We will not compromise on quality but our products remain very affordable and excellent value for money.

Design:
Our original designs and careful planning of each sculpture means we create statues that are striking, interesting and extremely detailed. Each time you see them you'll notice something else in the detail.

Durability and Strength:
Weather and frost resistance are enhanced by the high density surface finish. Our well established production process provides maximum strength and faithful reproduction. We cast in silicone moulds in order to ensure perfect detail and consistency - quality is built into every statue.